Purely Evil #02 as a part of Murder Murder Japan Tour 2011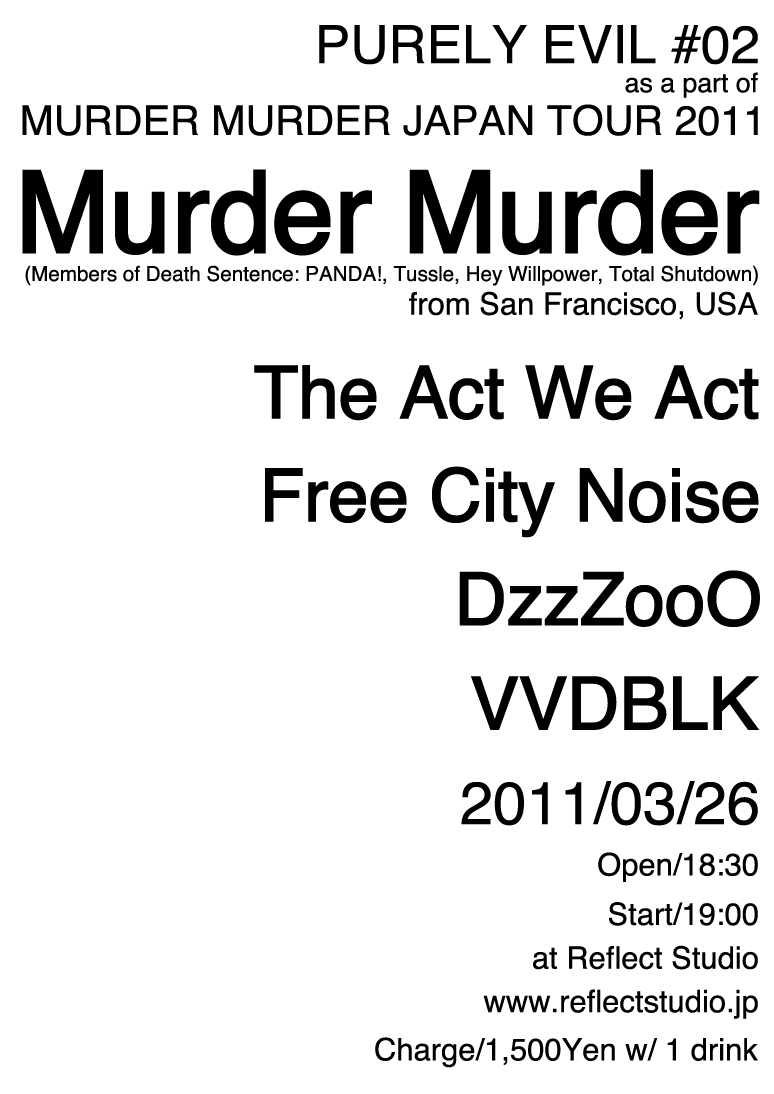 Murder Murder
from San Francisco (members of Death Sentence: PANDA!, Tussle, Hey Willpower, Total Shutdown)
The Act We Act
Free City Noise
DzzZooO
VVDBLK
2011/03/26
Open/ 18:30
Start/ 19:00
at Reflect Studio www.reflectstudio.jp
Charge/ 1,500yen w/ 1 drink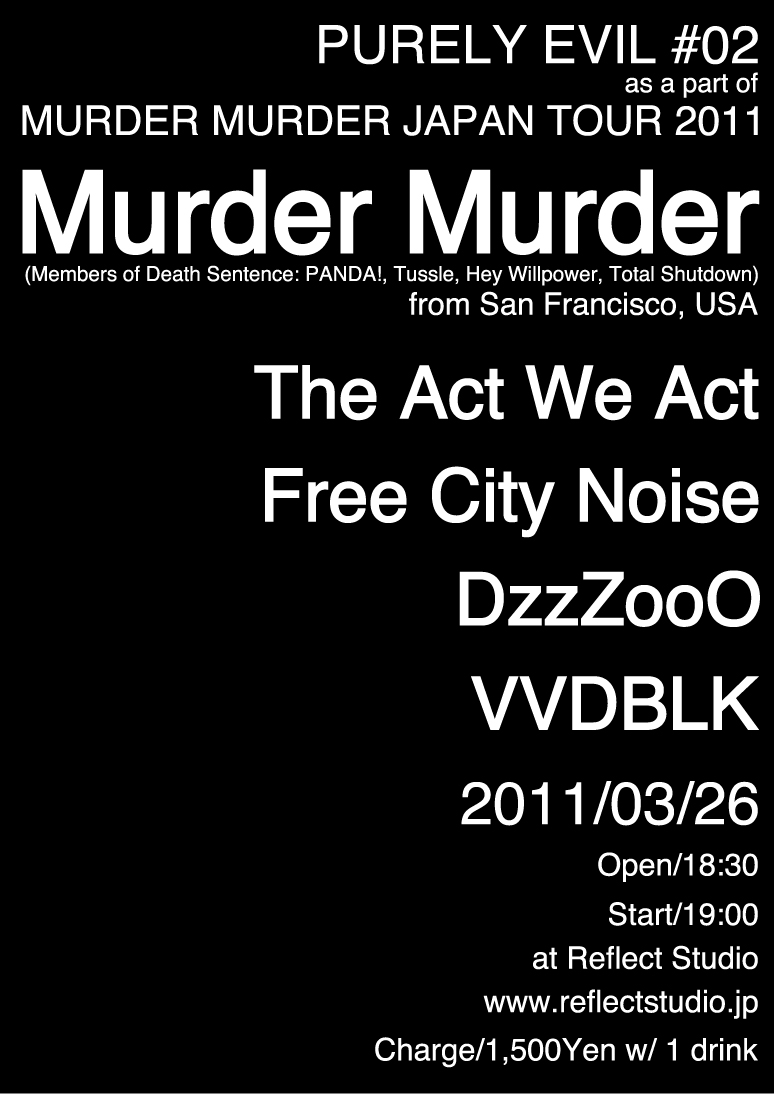 Murder Murderは、サンフランシスコベイエリアの無形と混沌の器官である。秩序のないやり方によって、Paul Costuro
(Death Sentence: Panda! / Total Shutdown /
XBXRX)を中心に、Art-Punk-Spuzz-Weirdo-Rock-Free-Jazz-Noiseシーンから、つかみ出された放し飼いのフリークの群れだ。
John Dwyer、Greg Saunier (Deerhoof)、Mochipet、John Weise、Ches Smith、C.
Spencer Yehや、Child Abuse、XBXRX、Burmese、Comets On Fire、T.I.T.S、Sic
Alps、Erase Errata、The Hospitalsのメンバー、筆者自身(Weasel
Walter)などが、今までのところの参加者であります。
実際の音楽については見方による。「フェイクジャズ」と呼ぶ人もいれば「ノイズ」と言う人もいるし、「パフォーマンスアート」として見る人もいれば、「でたらめうんち」と呼ぶ人もいる。まあ何とでも言ってくれたらいい。
Murder Murderは、アンダーグラウンドの向こう見ずのその時次第の進行中の試みであります。
僕が始めて見たのは2003年で、その時は、ドラムセットが2つと3人の電子的に強められたホーンプレイヤーで固められていた。
観客の方も、始まりのアタックに対して戸惑いで固くなっていて、反応的には『何なのこれ?!』、『これって音楽?』、『これ本当のバンドなの?』
YesとNoでございます。メンバーの方も、自分自身、メンバー同士、楽器との戦いみたいな感じで、互いにステージから落とし合いをしようとしているかのようだった。
絶望的な状況でありました。数分後、空は割れて開き、そのぐちゃぐちゃな感じのものが突然高まって行き、その結果、澄んだクリスタルの響きになっていき、僕の首毛は起ってしまった。セットは10分以内で終わってしまいました。ぼろぼろの乱闘のように見えて、結末は奇異な統一。
あなたはあえて聞きますか?
- Weasel Walter
- 訳: Tomo Yasuda (Tussle)
【英語プロフィール】
Murder Murder is a Bay Area-based organ of chaos and entropy led for
close to a decade in a de facto manner by Paul Costuros (Death
Sentence: Panda! / Total Shutdown / XBXRX) and generally featuring a
bevy of unhinged freakazoids culled from the creme of the SF/Oakland
art-punk-spuzz-weirdo-rock-free-jazz-noise scene including myself
(Weasel Walter), John Dwyer, Greg Saunier from Deerhoof, Mochipet,
John Weise, Ches Smith and C. Spencer Yeh, as well as members of Child
Abuse, XBXRX, Burmese, Comets On Fire, T.I.T.S, Sic Alps, Erase Errata
and The Hospitals. The actual music is a matter of perspective: some
might call it "fake jazz", some might tag it "noise", some see it as
"performance art", some might call it "bullshit on a stick", but, call
it whatever you will: Murder Murder is really an ongoing attempt at
gleeful, reckless spontaneity within the underground scene. I first
saw the group in 2003 at a gig in SF, armed with twin drum kits and a
trio of electroinically enhanced horn players. The audience was
stricken with confusion during the initial attack: what is this shit?!
Is this music? Is this a real band? YES/NO. The band members seemed to
be fighting themselves and each other at the same time, struggling
with their instruments and attempting to blow each other off the
stage. It was a desperate situation. After a few minutes, the sky
split open and the mess suddenly escalated into a wall of pure,
crystalline shriek that made the hair on the back of my neck stand up.
The set was over in less than 10 minutes. As much as Murder Murder
seems like a ragged free-for-all, bizarre unity is often the end
result. Do you dare to listen?
-Weasel Walter
人気ブログランキングへ