いよいよ明日に迫りましたFile-Under presents Listen! Vol.3。
久々のDJなのでちょっぴり緊張。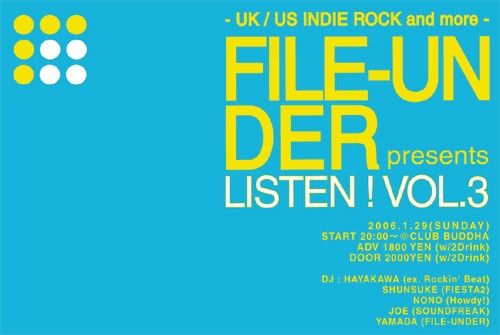 2006.1.29 (Sunday)
Start 20:00→Good Morning!!!
@Club Buddha
Adv.¥1,800 (w/2D)
Door ¥2,000 (w/2D)
DJ:Hayakawa (ex-Rockin' Beat)
Shunsuke (Fiesta2)
Nono (Howdy!)
Joe* (Soundfreak)
Yamada (File-Under)
前売り購入の方に新人さんいっぱいのサンプラーCDRをプレゼント。
始まるまでに連絡くだされば結構ですよ。
僕はUSをたくさんかける予定です。
あまり変態的にならず。
Club Buddha→名古屋市中区新栄1-5-25 第2Mビル6F
052-251-5450
www.clubbuddha.com
File-Under→名古屋市中区大須3-8-14 ゴールデンビル2B
052-242-6810
www.file-under.com
file-under.rec@nifty.com
Arctic Monkeys Baby Shambles The Rakes The Strokes The Subways Kaiser Chiefs Dead 60s New Rhodes Yeti Hal Franz Ferdinand Kooks Milburn Fountains Of Wayne Hard-Fi Razorlight
Nine Black Alps
Editoers Ludes Kill The Young
We Are Scientists Negative For Francis Lightning Bolt
Boy Kill Boy Weezer Hot Hot Heat Killers The Libertines Holloways Automatic Teenage Fanclub Harrisons The Bravery Maximo Park Mystery Jets Ordinary Boys Kasabian The Vines Magic Numbers Mew Jimmy Eat World Dogs The Paddingtons The Rifles The Coral Art Brut Arcade Fire White Stripes
Longcut
Clap Your Hands Say Yeah Be Your Own Pet
Forward, Russia
White Rose Movement
The Eames Era The Natural History Group Sounds Arms Distophia The Sunshine Underground We Start Fires Ladyfuzz Tiger Force The Mules Bromheads Jacket The Grates Comanechi
and more!!!